About JUMCO
Jordan Uranium Mining Company (JUMCO) was founded in 2013 for radioactive elements exploration and development in Jordan.
Since it's inception, JUMCO focused the exploration and development efforts on the Central Jordan Uranium Project (CJUP) Utilising all data from previous exploration efforts carried out for the Central Jordan area, whether it's from the Natural Resources Authority (NRA) or Jordanian French Uranium Mining Company (JFUMC).

To explore, mine, and exploit sources of nuclear materials such as uranium, chlorine, thorium, zirconium, vanadium, and any other radioactive metals or associated elements that exist in the natural ores of the Hashemite Kingdom of Jordan.
To benefit from exploration and exploitation rights to establish investment projects with local capital or through attracting external partners or investors in the field of exploitation of radioactive raw materials and associated minerals to serve the high interests of the Hashemite Kingdom of Jordan.
To market and use the products from the company's projects, including the supply of uranium to nuclear power plants, and the production and/or supply of nuclear fuel needed to operate nuclear reactors.
To attract foreign companies and provide them with the available technical and geological information for the purpose of participating with them for the investment of nuclear metals and the associated materials, provided that to obtain the necessary licenses.
To execute any projects or work that are involved in the implementation of the National Nuclear Energy Strategy.
generally, to undertake industrial, commercial, financial, private, real estate, or personal property transactions either directly or indirectly related to one of the corporate purposes set forth above or to similar or inter-connected purposes.
Achievements
JUMCO has issued three resource estimation reports for the CJUP the latest of which in June 2018, All resource estimation reports and exploration activities are compliant with the Joint Ore Reserves Committee (JORC 2012) Code to ensure that the data acquisition, data processing, and reporting are carried out following the industry's best practice and the implementation of the relevant standards and codes.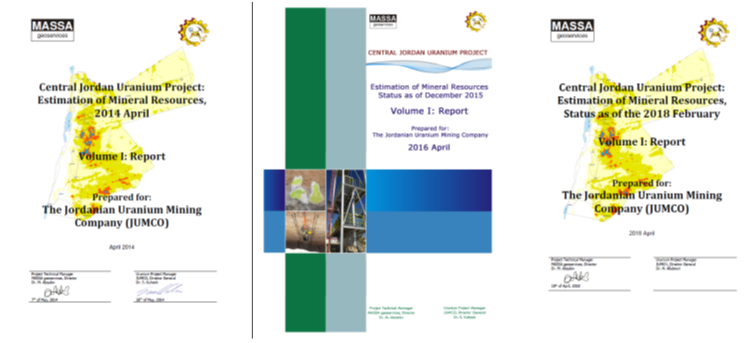 During the last several years, JUMCO's extraction team has been able to develop the industrial process for the Uranium Extraction from Central Jordan Ore using the Alkaline Leaching method and extracted 1 Kg Yellowcake as a demonstration of the process. The extraction process is under constant development throughout the several stages of the project, following the industry best practice and collecting information and several parameters for the upscaling of the process until it reaches the industrial level.

JUMCO Activities
---
Uranium in Jordan
---
Al jazzera report about jumco
---