Uranium Exploration
Central Jordan Uranium Project, is located in the central part of Jordan and occupies an area of 667 km2. CJUP extends from 50100 km south of Amman along the Amman-Aqaba highway.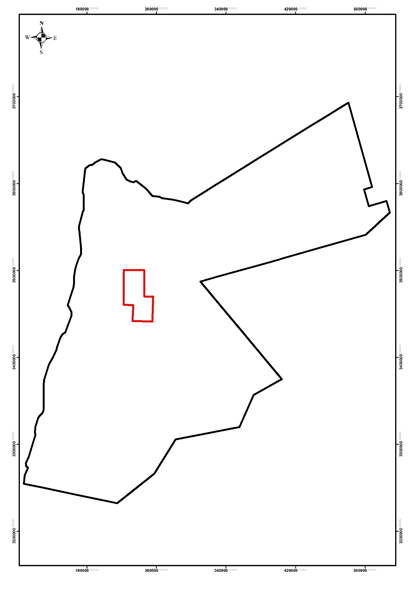 The detailed exploration and evaluation of the uranium mineralization discovered in the central areas of Jordan has commenced in 2009. Initially, the exploration was conducted by the Jordanian French Uranium Mining Company (JFUMC) and later by the Jordanian Uranium Mining Company (JUMCO) in 2013.
The maiden resources of the Central Jordan Uranium Project (CJUP) have been estimated and reported in 2014 according to the 2012 Joint Ore Reserves Committee (JORC) Code principles (JORC 2012). Since then, the Jordanian Uranium Mining Company (JUMCO) has continued intense exploration with an objective of further increase of the resource base and upgrading the resources into the highest classification category which was achieved upon the issuing of the 3rd JORC Compliant resource estimation report in 2018.
The surficial uranium mineralization in central Jordan is hosted by Upper Cretaceous-Tertiary sediments And is characterized by uranium enrichment in weathered rocks exposed at the Earth's surface. In Jordan, the surficial mineralization is most clearly characterized within the CJUP deposit and it is the most economically significant type of uranium mineralization in Jordan and represents the main exploration target which was explored by the trenching method of the first mineralization horizon (0-5 m) while borehole drilling and wireline logging were used for the deeper horizon.
The extraction process for the CJUP deposit was developed by Jordanian experts following the industry best practice and following the Highly encouraging results of the metallurgical tests that demonstrate that mineralization is amenable for processing by heap leach technology and culminated with the production of Jordanian yellowcake.